What do you call your series of artworks?  
– Based on a harsh, personal experience that led to a breakdown, my series of vases is called "Katharsis."  
What technique have you used?  
– I hand build my vases and use techniques like coil and pinch.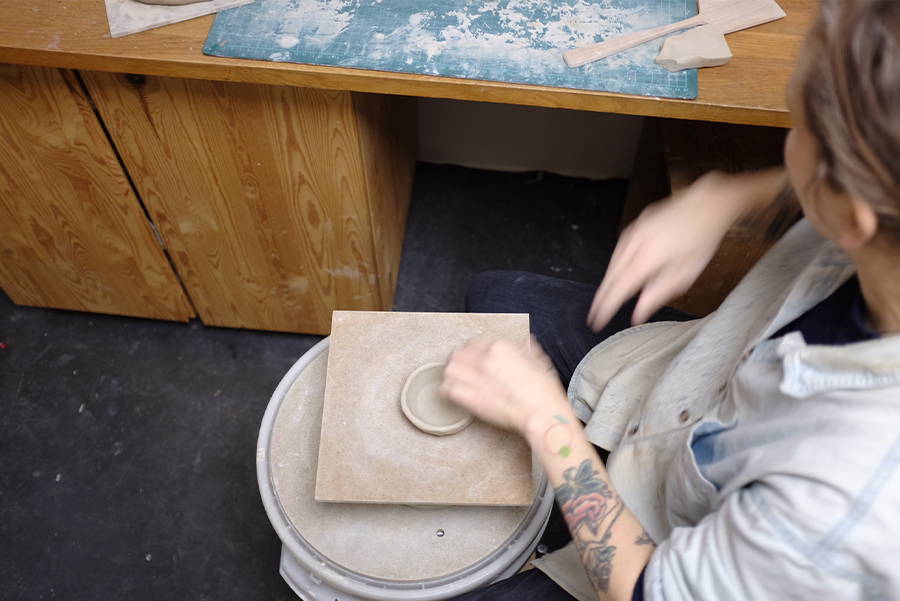 What inspired you to create the artworks you have made for The Ode To?  
– I visualized my own katharsis as a bud, and I had this idea of a flower bud on its way to become a flower. I still don't know what kind of flower it is, or if it is a flower at all. I can just see it growing from a bud, into something else.  
How would you describe your art and aesthetics in three words?  
– That's so hard. I constantly keep shifting my mind.  
Can you tell us about your background and how you came to be an artist?  
– I've always been drawn to art, storytelling and movies. So, from a very young age, I thought I was going to be a photographer, and I went to a documentary film school. But after that, I ran a queer cafe in Malmö for many years.  
When I had kids and time, I started making things in clay – and I found it so liberating. It felt like a new language to me; I discovered a work process where my high sensitivity personality and my hands could interact to create new approaches.  
I'm using my own experiences when I create, and with my love for sincerity – I let the clay lead the way and tell stories both touching and chafing. Why? Because it feels like the only sensible thing to do.
What other artists do you admire?  
– I have to say Lena Cronqvist and Grayson Perry. They are both private and challenging in their work, they master exquisite craftsmanship and they use the darkness in a way that really touches me.  
---
What we love about Karolina Brobeck:
We love the way Karolina Brobeck's ceramic objects are an exploration of both soft, organic shapes and personal experiences.