At The Ode To we are always curious to learn more about creativity and artistry, so we asked Sweden-based artist Johanna Landin to tell us a little bit about her life, her art and her sources of inspiration.
What do you want to call your series of artworks?
– I have named my artworks in two series; Curves and Layers. Curves are lines forming organic and sometimes geometric shapes. Layers are lines forming shapes that remind of landscapes in different scales.
What techniques have you used?
– I'm creating my wall hangings with dyed wool yarn and a tufting gun. It is a technique where you shoot yarn on a mesh fabric.
What inspired you to create the artworks you have made for The Ode To?
– I'm interested in intuitive creation – Nature's chaotic visual language is always in the back of my head as an inspiration. I make my wall hangings with the tufting gun freely without planning a shape or pattern in advance. In that way, each piece becomes a sketch in full scale where mistakes, chance and lack of control shapes the directions of the lines and as well as the final result.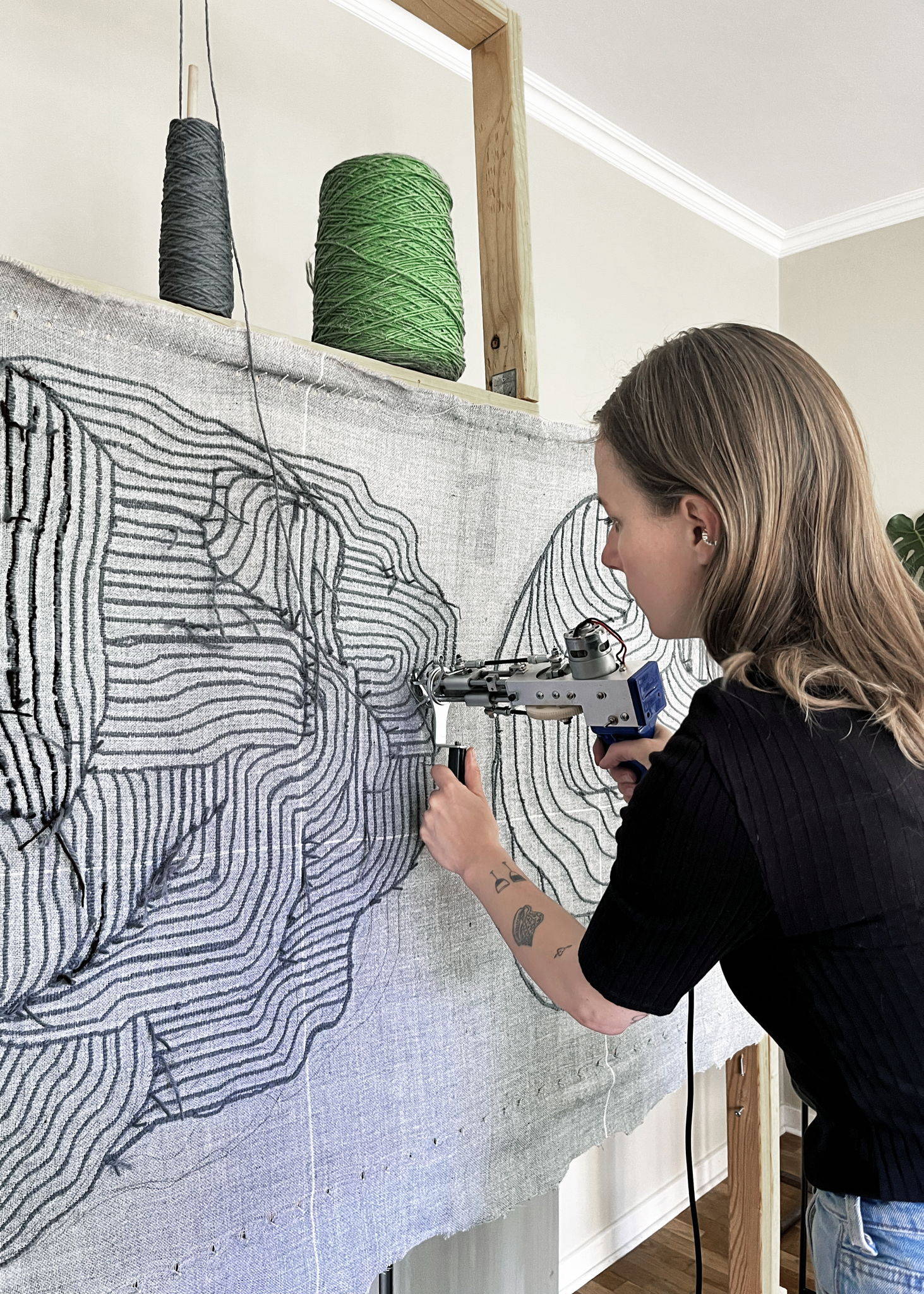 Could you tell us about your background, your education and how you came to be an artist?
– I'm an architect educated at Chalmers University of Technology and Konstfack in Stockholm. I have always liked to create things with my own hands, textile is a field that has been close to my heart for as long as I can remember.
How would you describe your art and aesthetics in three words?
– Colourful, intuitive, soft
WHAT WE LOVE ABOUT JOHANNA LANDIN:
We are enamored by Johanna Landin's art and artistry, as she effortlessly combines colors, textures, and shapes in her tufted wall hangings, creating visually stunning and captivating pieces. Her intuitive approach to creation, coupled with her meticulous craftsmanship, results in contemporary artworks that are both vibrant and evocative, adding a unique and eclectic touch to any space.