The Graduate Show is an annual celebration of emerging artistic talent. At The Ode To, we are committed to providing a platform for newly graduated artists to shine. Each year, we carefully curate a collection that represents the freshest voices in the art world.
At The Ode To, our mission is to empower the next generation of artists. We recognize the challenges that young artists face as they embark on their creative journeys. That's why we go beyond just showcasing their work; we connect them with a global community of collectors and buyers, opening doors to new opportunities.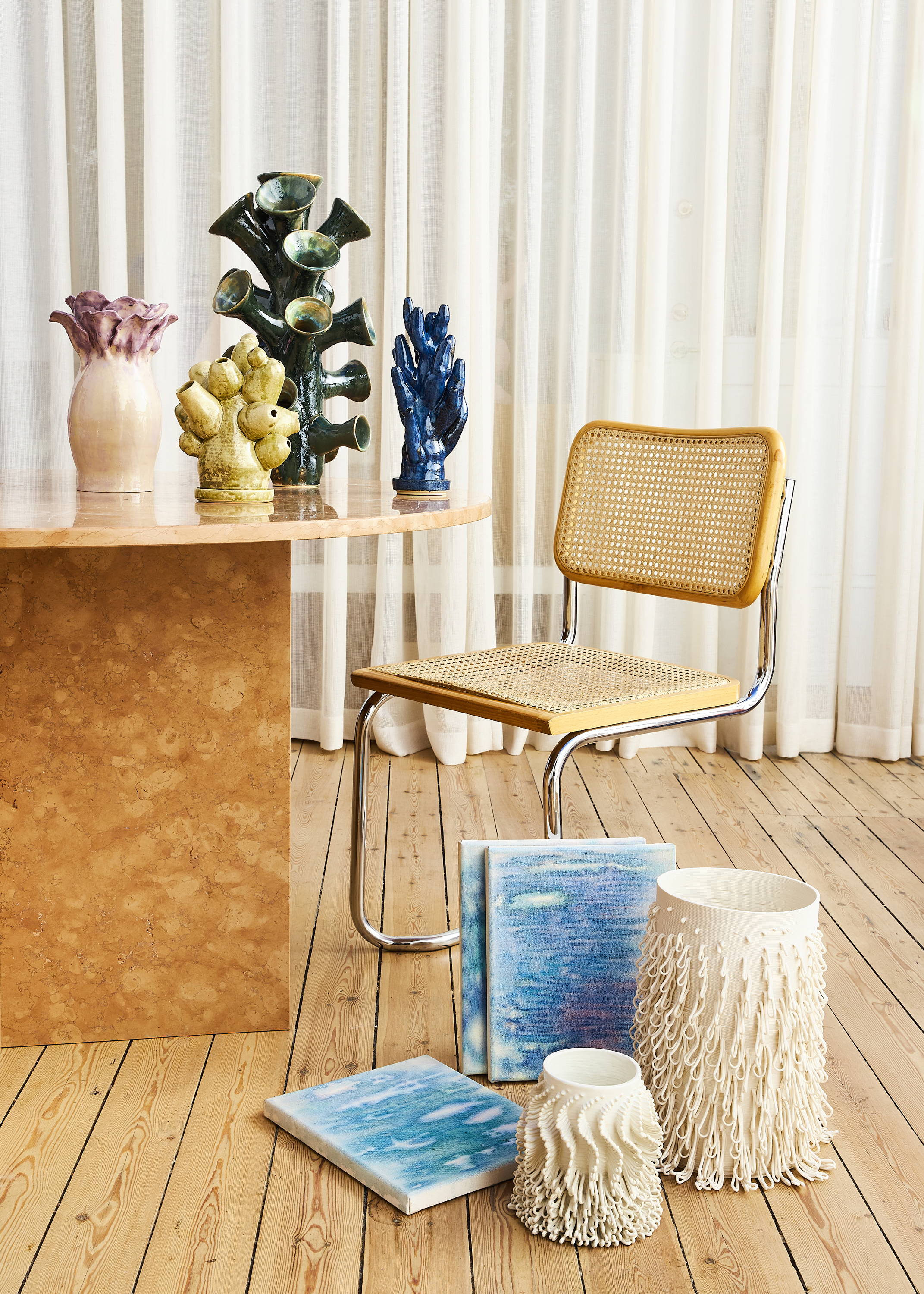 Dive into the world of artistry with our Graduate Show Collection of 2023. This year's selection features a diverse range of styles, mediums, and perspectives, offering a glimpse into the future of art. From romantic paintings to thought-provoking sculptures, each piece tells a story waiting to be discovered.
Lou Berg attended Vårdinge Folkhögskola for two years, specializing in ceramics, and she is currently enrolled in the Bachelor's program in Glass and Ceramics at Konstfack. The path to becoming an artist hasn't always been clear for her, but creativity and the act of creation have remained steadfast in her life. According to Lou, her discovery of clay as a medium and the opportunity to continue her exploration of this remarkable material at the university level have been both the best and most challenging experiences she's ever encountered.
We are captivated by Lou Berg's unique ability to challenge the norm and redefine beauty through her art. Her playful and vibrant ceramics invite viewers to question preconceived notions, celebrating the extraordinary in the everyday. Lou's work adds a fresh and eccentric perspective to the art world, making her a truly exciting and thought-provoking artist.
Hilda Piazzolla
COLLABORATION WITH Alma Bangsgaard Svendsen
Denmark, 3D-printed porcelain
Hilda's artistic path began in 2009 when she enrolled at Nyckelviksskolan, specializing in ceramics during 2010/2011. She continued her educational pursuit at KADK in Copenhagen, dedicating five years to her studies and ultimately earning her BA/MA degree, culminating in her graduation in 2017.
The pieces created for this collection are made in collaboration between Hilda and artist Alma Bangsgaard Svendsen. Hilda and Alma's series challenge conventional boundaries, demonstrating the extraordinary potential of marrying digital technology with traditional craftsmanship. Hilda's artistry invites viewers to explore new dimensions of texture, movement, and detail, creating a truly unique and mesmerizing experience
Aya Onodera, is originally from Miyagi, Japan, but now resides and works in Berlin and Hamburg, Aya Onodera graduated as an Absolvent from the University of the Arts Berlin in 2011. She commenced her Master's degree program at the University of the Arts Hamburg in 2021. Currently, she is on parental leave and plans to complete her Master's degree, likely graduating in 2024. With diverse artistic experiences spanning from 2005 in Tokyo to her current base in Berlin and Hamburg, Aya's work reflects a unique blend of influences and perspectives.
We're captivated by Aya Onodera's ability to infuse her paintings with fragments of the world, transcending the visible and delving into the realm of the unseen. Her 'Fragments' series is a testament to her unique approach, evoking emotions and perceptions that resonate deeply with viewers.
Nils began his studies in 2013 at the University of Arts Berlin. There, he studied under Mark Lammert, switching to the class of Karsten Konrad in 2016 when he began working with sculpture and installation. He finished my Master's degree in 2021.
We're enchanted by Nils Blau's ability to transform ceramics into living, breathing entities that evoke the essence of a natural world in harmony. His series of artworks is a testament to his skill in crafting pieces that bridge the gap between the organic and the constructed, inviting viewers to ponder the complex dialogue between nature and human influence.