At The Ode To we are always curious to learn more about creativity and artistry, so we asked Katharina Ruhm to tell us a little bit about her life, her art and her sources of inspiration.
What do you call your series of artworks?
– My series of artworks are called Ode To Canaries.
What technique have you used?
– I have developed a production process that merges the traditional craftsmanship of glass making with an innovative production technique. The design of the glass bodies is not entirely controlled by the glass maker, nor is it fully controlled by the mold. It is a correspondence between the craftsman and the movement of the melted glass. Through that innovative process, the glass itself becomes the self-sufficient shaper. In this respect, all of the glass bodies can be seen as unique specimens; frozen snapshots of the ability of this synthetic material.
What inspired you to create the artworks you have made for The Ode To?
– The inspiration behind my artworks was actually the history of breeding canaries. There is something very grotesque about having a bird as a pet and in general the idea to breed an animal to look a certain way. The domestication of these bright songbirds goes back to the 17th Century, where it became fashionable to breed canaries in the courts of Spain and England. While wild canaries are yellow, the color range of domestic canaries can range from white and yellow to aurora rose.
The Ode To Canaries artworks envision objects as vulnerable companions. Companions with a need for care and compassion. Delicate and fragile glass bodies become reflections of one's selves need to be cared for. The objects do not serve or function for the beholder, they do not want to be owned or become smooth extensions of the human self. They demand to be seen and understood without fulfilling expectations.
What other artists do you admire?
– I admire the artist Ida Ekblad. Her paintings have a unique atmosphere to them which impacts me in such a strong way.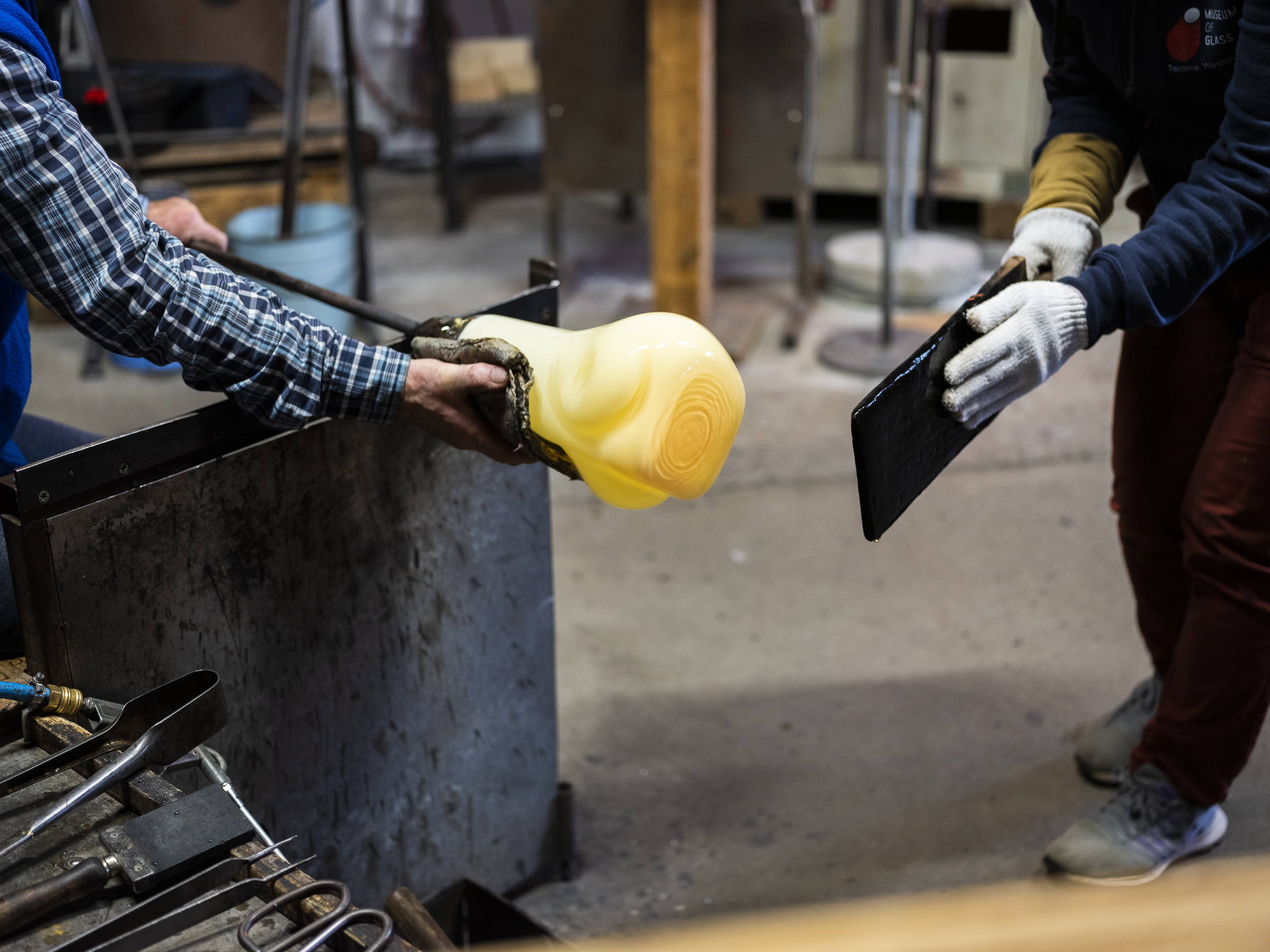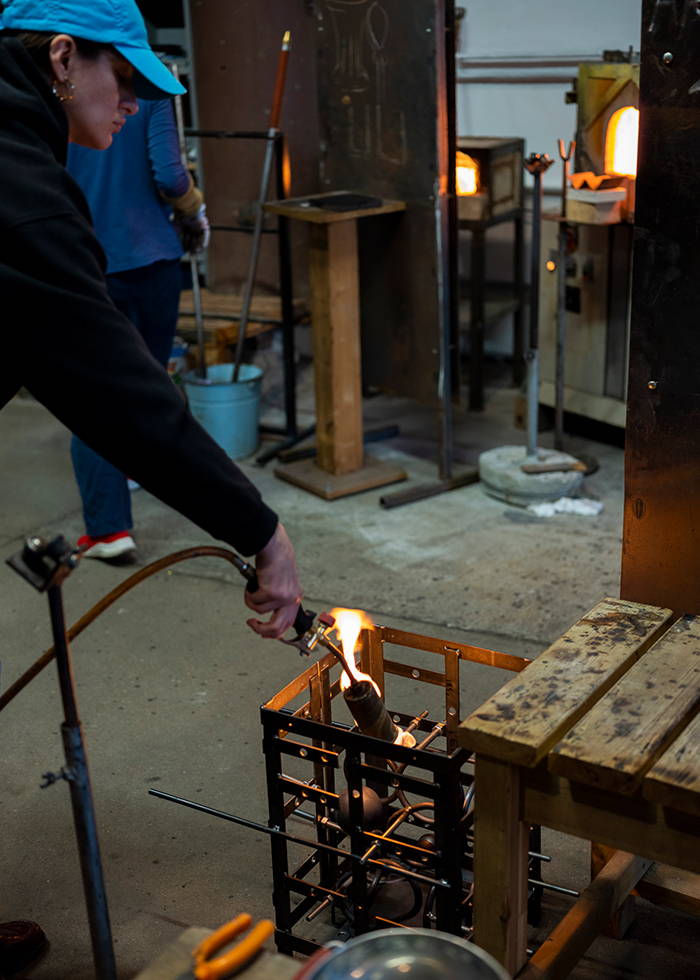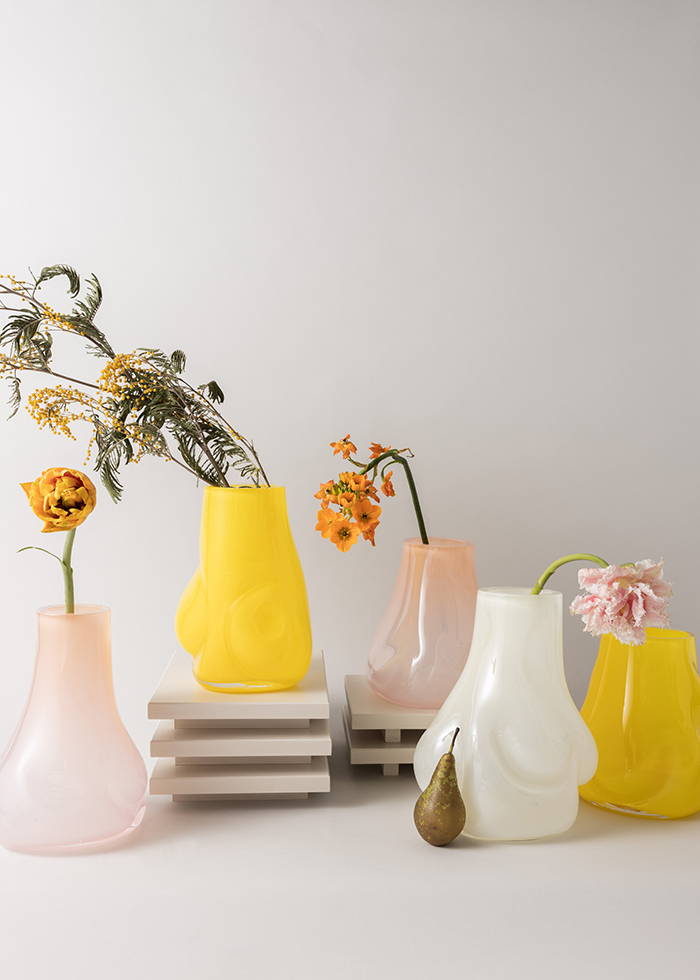 Can you tell us about your background and how you came to be an artist?
– I am a Berlin-based artist and designer. I have studied design and that further motivated my interest in the relationship we have with everyday objects. My work results from considerate observations of our relation to the objective world. The conceptual part of my work focuses on the influences of industrial mass-production on our aesthetic understanding. In my productions I desire disparities, transformations and mistakes.
How would you describe your art and aesthetics in three words?
– Melting, curiosity and vulnerability.
---
What we love about Katharina Ruhm:
We love Katharina Ruhms colorful yet subtle glass vases and sculptures. Rooted in traditional glass craftsmanship and created from an analytical approach to the being of ordinary objects.