At The Ode To we are always curious to learn more about creativity and artistry, so we asked Camilla Lindqvist, the artist behind 'Kerafakt', to tell us a little bit about her life, her art and her sources of inspiration.
What do you call your series of artworks?
– 'Kerafakt', handmade ceramic artefacts.
What technique have you used?
– These pieces are hand built in stoneware clay.
What inspired you to create the artworks you have made for The Ode To?
– My craft is characterized by movement and organic forms, often with an expression that can be related to textiles, textures, spatiality, and architecture. It is tactile and intuitive. The work is a melting pot of impressions and experiences, a distilled, blended image of the world and what I experience: sensations, memories, and emotions.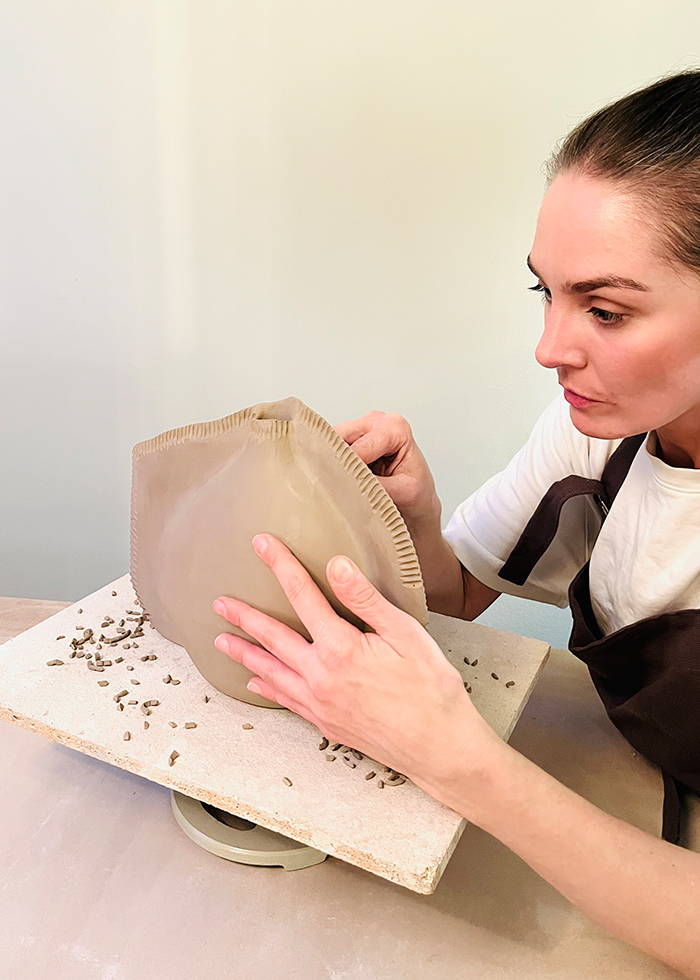 What other artists do you admire?
– The work of the sculptor Valentine Schlegel is a big source of inspiration, as well as her way of living. She rejected the notion of staying small, quiet, and subordinate, and refused to conform to the expectations placed upon women in mid-century Paris. The story of women in design and craft is often overlooked, despite the fact that it has had an impact on the world in countless ways.
Can you tell us about your background and how you came to be an artist?
– From a very early age, I had an interest in design and creativity, playing with shapes, forms, and color. This interest later developed into a career in fashion design. After several years in Italy and studying design in Milan, I moved to Stockholm where I have been working as a designer since 2011. Alongside my work in fashion, I experimented with clay but fell in love with ceramics during my year of absence in 2019, when I studied the program "Keramisk Form" at Nyckelviksskolan in Stockholm. Today, I work as a freelance designer and artist.
How would you describe your art and aesthetics in three words?
– Curvaceous, tactile, and sculptural.
---
What we love about Camilla Lindqvist:
A playful expression meets great craftsmanship in the Kerafakt artworks created by Camilla Lindqvist, and honestly? We couldn't be more charmed.