At The Ode To we are always curious to learn more about creativity and artistry, so we asked Charlotte Kølkjær, the artist behind Sugoi Studio, to tell us a little bit about her life, her art and her sources of inspiration.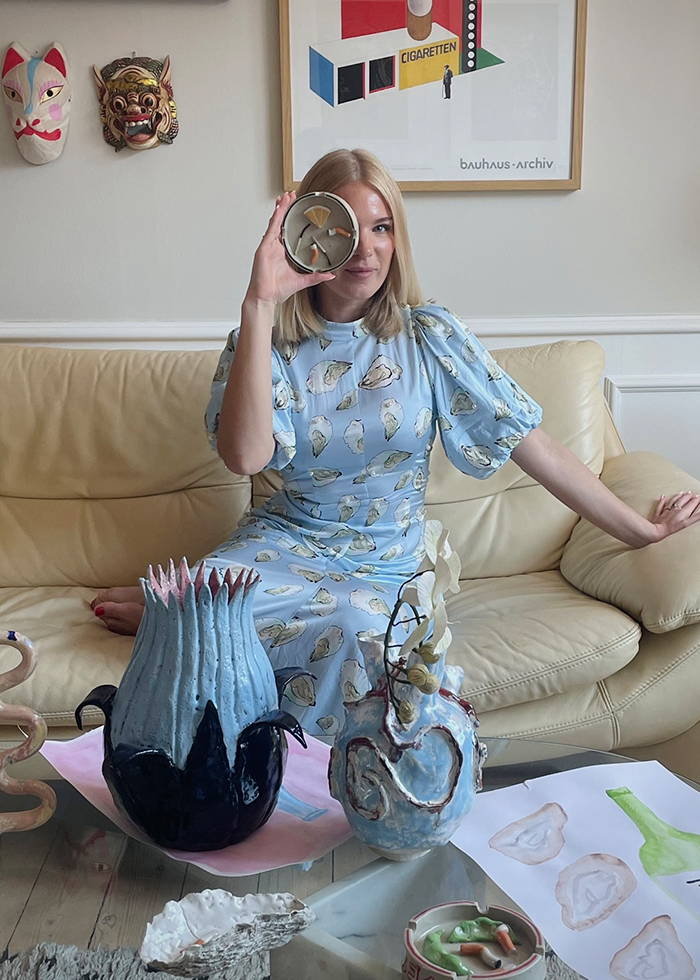 What do you call your series of artworks?
– "Moments of decadence". Most of my works are based on observations, the leftovers of interactions between friends. Especially the ashtrays tell a little story of whatever transpired at a certain time; someone drank a Negroni and left the orange in the astray, the cigarette butts left on a beautiful oyster shell ... There's a decadence to that behaviour, but also so much beauty, I think.
What technique have you used?
– My ceramic works are built with white clay. I utilize the plating technique and hand-building methods. I shape the smaller objects and set them in place when the base is constructed. They are painted with underglaze and then glazed with a clear glaze. For my works on paper, I use watercolours and occasionally crayons and pastels. Sometimes, I also use pencils, but I try to not sketch too much beforehand. Instead, I prefer to use my paintbrush – it's harder – and for some reason I enjoy that challenge.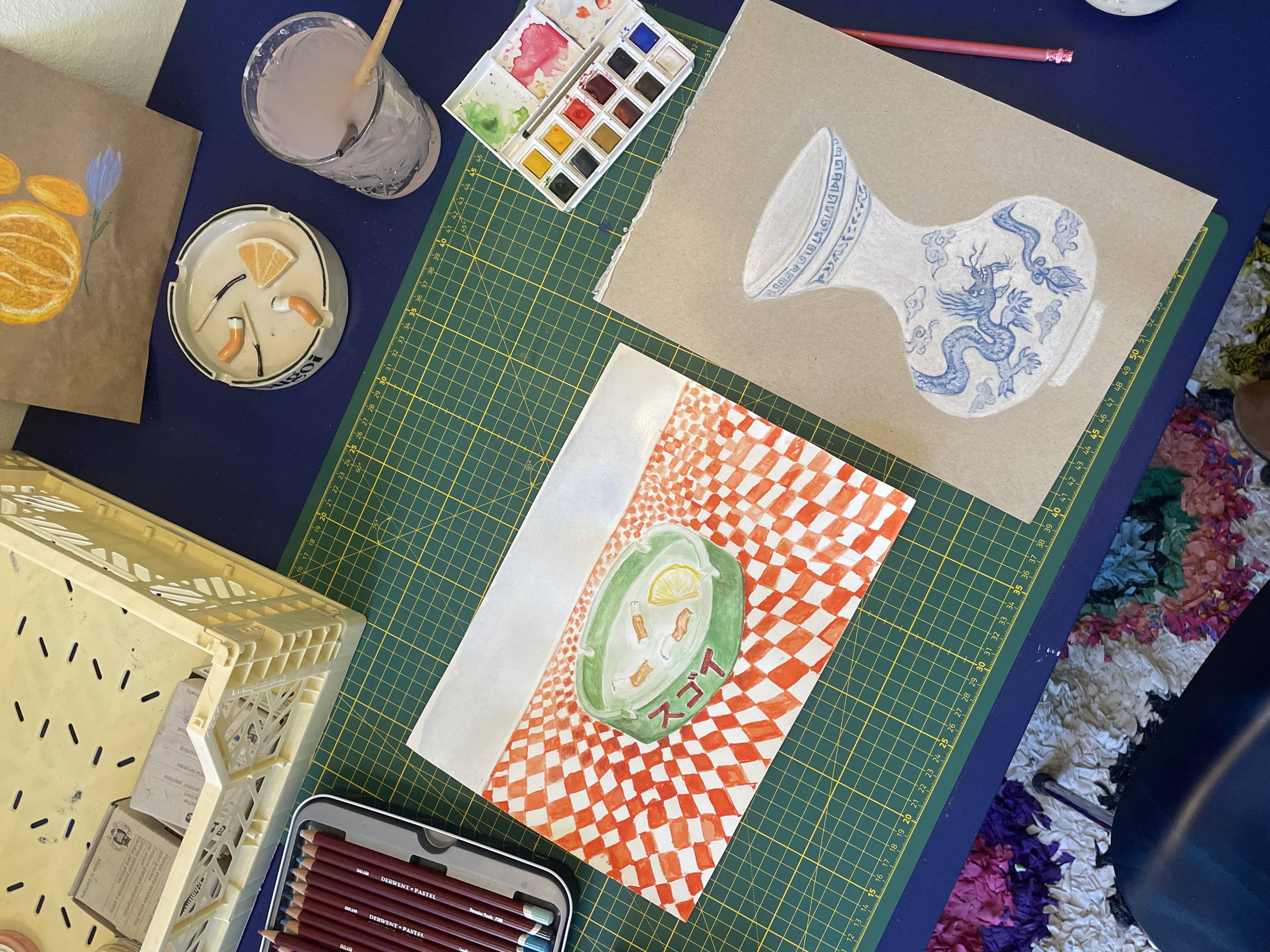 What inspired you to create the artworks you have made for The Ode To?
– I draw so much inspiration from daily life and observing things like the empty plates at a restaurant or the tray of oysters that have been used as ashtrays by the end of the night. However, my core source of inspiration comes from travelling in Asia, especially Japan. My studio name, "Sugoi," is my favourite Japanese word - it's a term used to express thrill and amazement, and it felt incredibly fitting to me. This is also where my obsession with sake bottles started. I absolutely love drinking sake, and the bottles themselves are at least half of the enjoyment. They are always carefully designed, often with coloured glass and frequently adorned with calligraphy that has a strong graphical expression.
What other artists do you admire?
– The Danish artist Klara Lilja is the one who inspired me to start working with clay. Her universe is unapologetically feminine, yet there's an element of gore in much of her practice. I own a few of her works, and I adore them. Additionally, my all-time favourite is Le Corbusier, whom I developed an obsession with during my studies in art history. Everything he created was based on strong principles and concepts, and while he was a bit of a peculiar figure, his architecture and paintings will forever resonate with me. I enjoy delving into his theoretical books on architecture.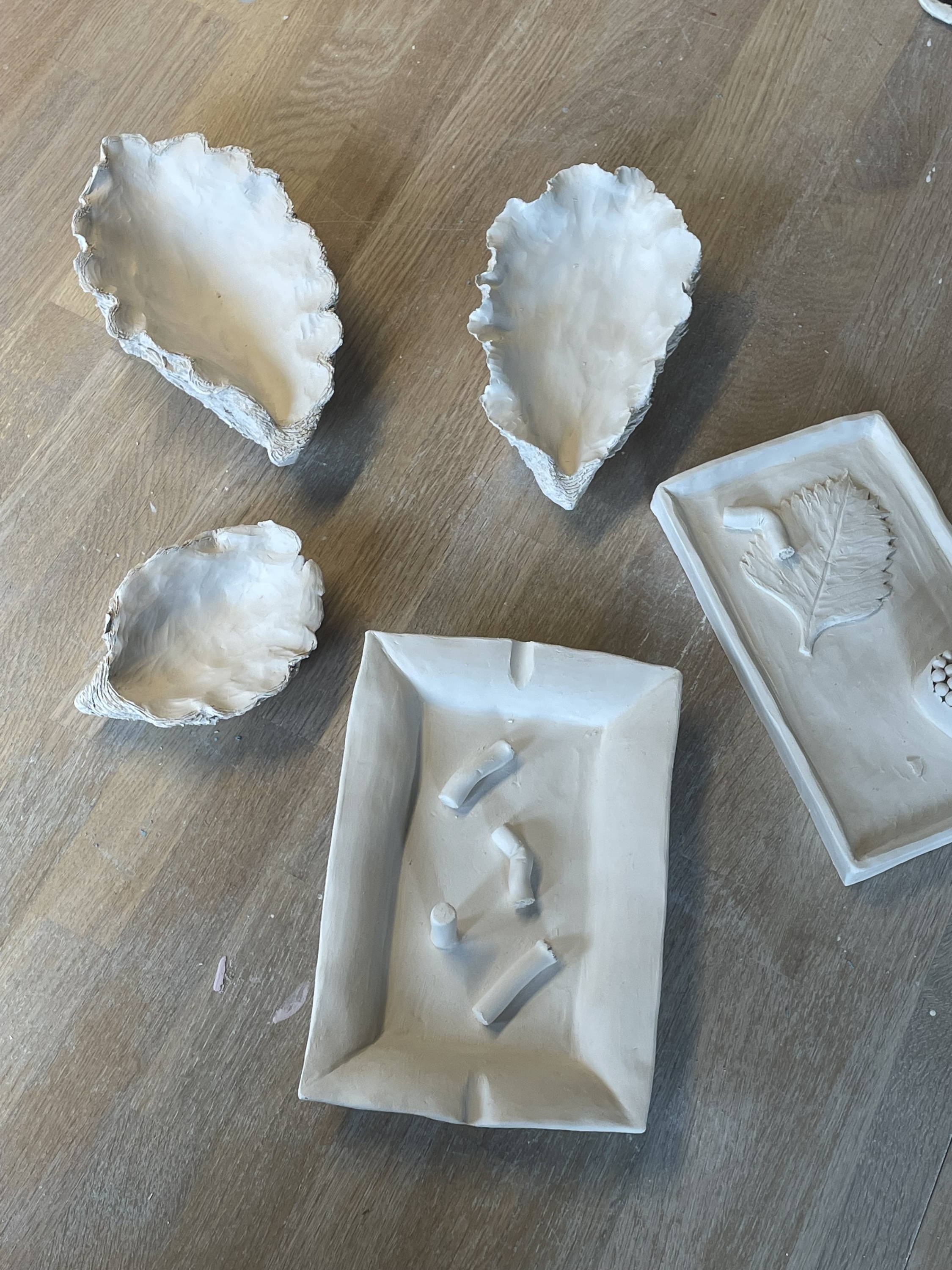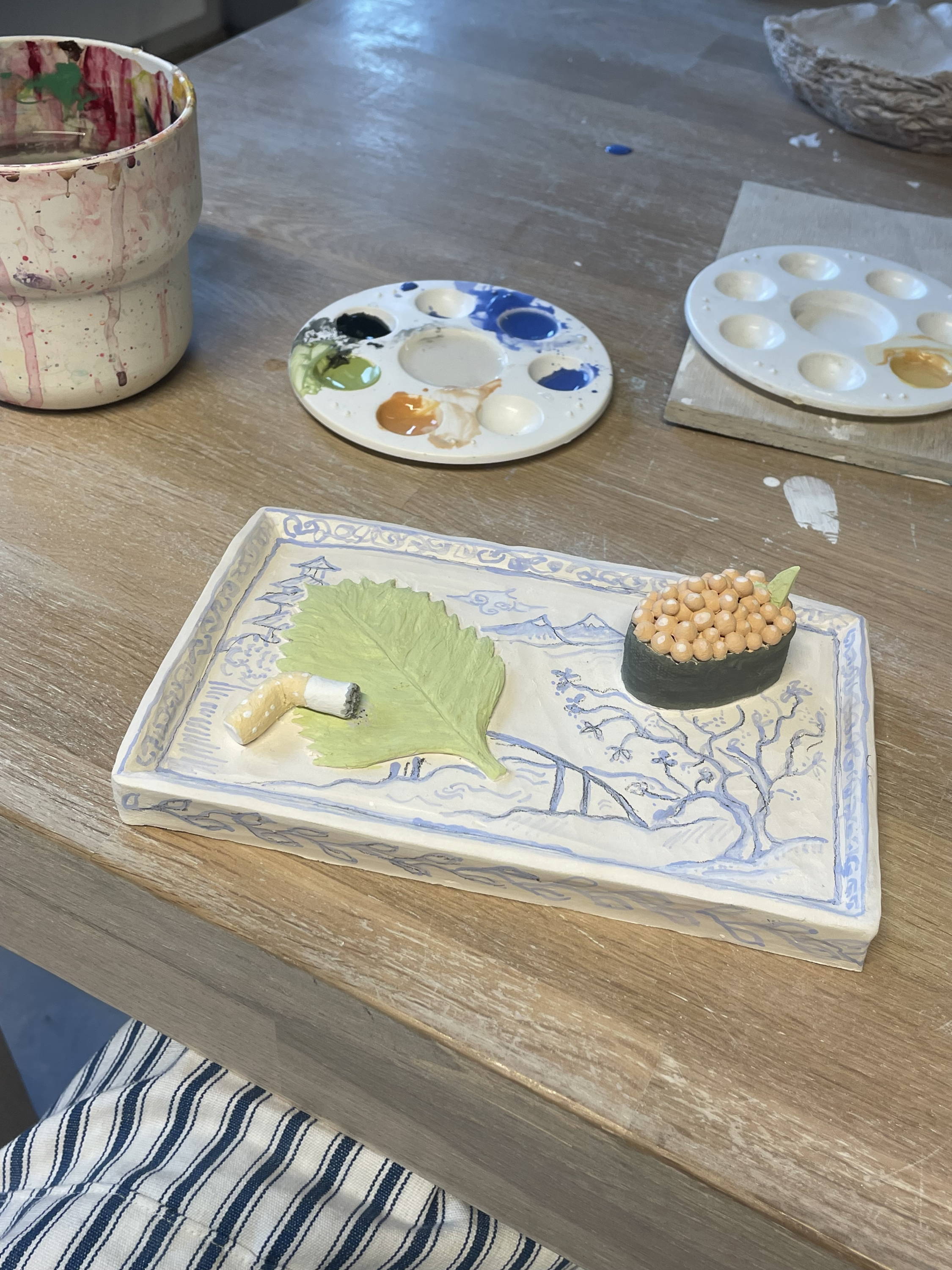 Can you tell us about your background and how you came to be an artist?
– As a child, I always knew I wanted to work with aesthetics. I studied art history but eventually left the art world to pursue a career as a consultant. A decade later, I rediscovered my passion for ceramics and painting, and I finally found the courage to break free from my boring and stressful career and pursue the creative life I had always secretly dreamed of. Aesthetics has always played a defining role in my life, but when I was younger, I never had the confidence to see myself as a creator. Breaking free from that mindset has been the best decision I've ever made for myself.
How would you describe your art and aesthetics in three words?
– Playful, nostalgic, decadent.
---